RIWAX INSECT CLEAN INSECT REMOVER 5 kg 02220-6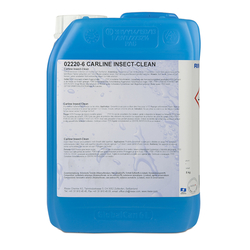 | | |
| --- | --- |
| Manufacturer: | Riwax |
| List Number: | 02220-6 |
| EAN: | 7611905000953 |
| Availability: | Skladem |
| Price excluding VAT: | 825,62 Kč |
| | 999,00 Kč |
Riwax® Carline Insect Clean is an effective insect remover. It contains special enzymes that facilitate the removal of insect remnants from smooth surfaces such as glass, paint and plastics. Concentrate. Package 5 Kg. Total weight 5.50 kg.
Use: We recommend diluting the concentrate with water in a ratio of 1: 5. Spray the product on the cleaned surfaces, leave it to act for 1-2 minutes and spread with a damp sponge. Then rinse thoroughly with water.
Caution: Do not spray on hot painted parts. Do not work in direct sunlight. Do not let the product dry! Protect from frost!
https://eshop.riwax.cz/