RIWAX INSECT CLEAN 500 ml 03360-2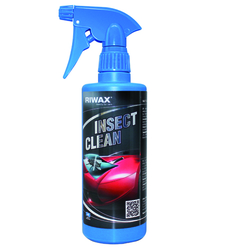 | | |
| --- | --- |
| Manufacturer: | Riwax |
| List Number: | 03360-2 |
| EAN: | 7611905033616 |
| Availability: | Skladem |
| Price excluding VAT: | 164,46 Kč |
| | 199,00 Kč |
Riwax® Insect Clean- Insect cleaner and remover. It contains special enzymes that facilitate the removal of insect remnants from smooth surfaces such as glass, paint and plastics. Package 500 Ml. Weight 0.60 kg.
Use: Spray the product on the cleaned surfaces, leave it for 1-2 minutes and spread with a damp sponge. Then rinse thoroughly with water.
Caution: Do not spray on hot painted parts. Do not work in direct sunlight. Do not let the product dry! Protect from frost!
https://eshop.riwax.cz/